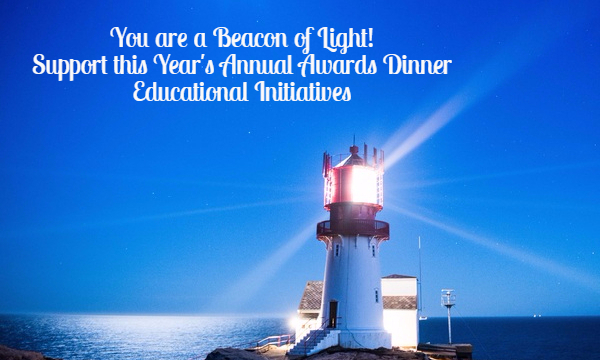 Education is the movement from darkness to light.
-Allan Bloom
Education of the next generation is critical to carrying the memory of our maritime history forward, and we thank all of you who have supported our upcoming Annual Awards Dinner on 26 October with your sponsorship, contributions and early bidding on the Silent and Live Auctions!  This year we will continue our educational sponsorships with our Beacon of Light initiative.
Everyone contributing $100 or more will be given a small light-up pin – if you'll be attending the gala we ask you to wear it proudly to inspire others to give; if you'll be supporting us from home, we'll send you your own special NMHS pin.  Contribute online, email nmhs@seahistory.org or call (914) 737-7878 Ext. 0 today!
Will you all join your fellows in supporting our education initiatives?
In doing so you bolster Sea History magazine, the voice of America's maritime heritage.
Your contributions help us reach the next generation of maritime enthusiasts with our Sea History for Kids website
With your help we can offer maritime awards in 25 National History Day state contests in which over a half million high school and middle school students participate.
Your support will enable us to catalog and preserve our 8,000 volume maritime library and archive collection of photographs, maps, charts, vessel plans, works of art, ship models and other maritime objects.
With your help we head into the 26th year of our NMHS Seminar Series, engaging 15,000 participants since 1992 in our common maritime heritage and supporting over 200 maritime historians, authors, artists and filmmakers.
Your donations make possible documentaries like the Sails over Ice and Seas series celebrating the life and times of Ernestina-Morrissey.
Whether your contribution is for $1,000, $100 or any amount you are able to give, you are keeping our maritime heritage alive and helping us to preserve our seafaring traditions.
Contribute online, email nmhs@seahistory.org or call (914) 737-7878 Ext. 0 today!
Thank You!